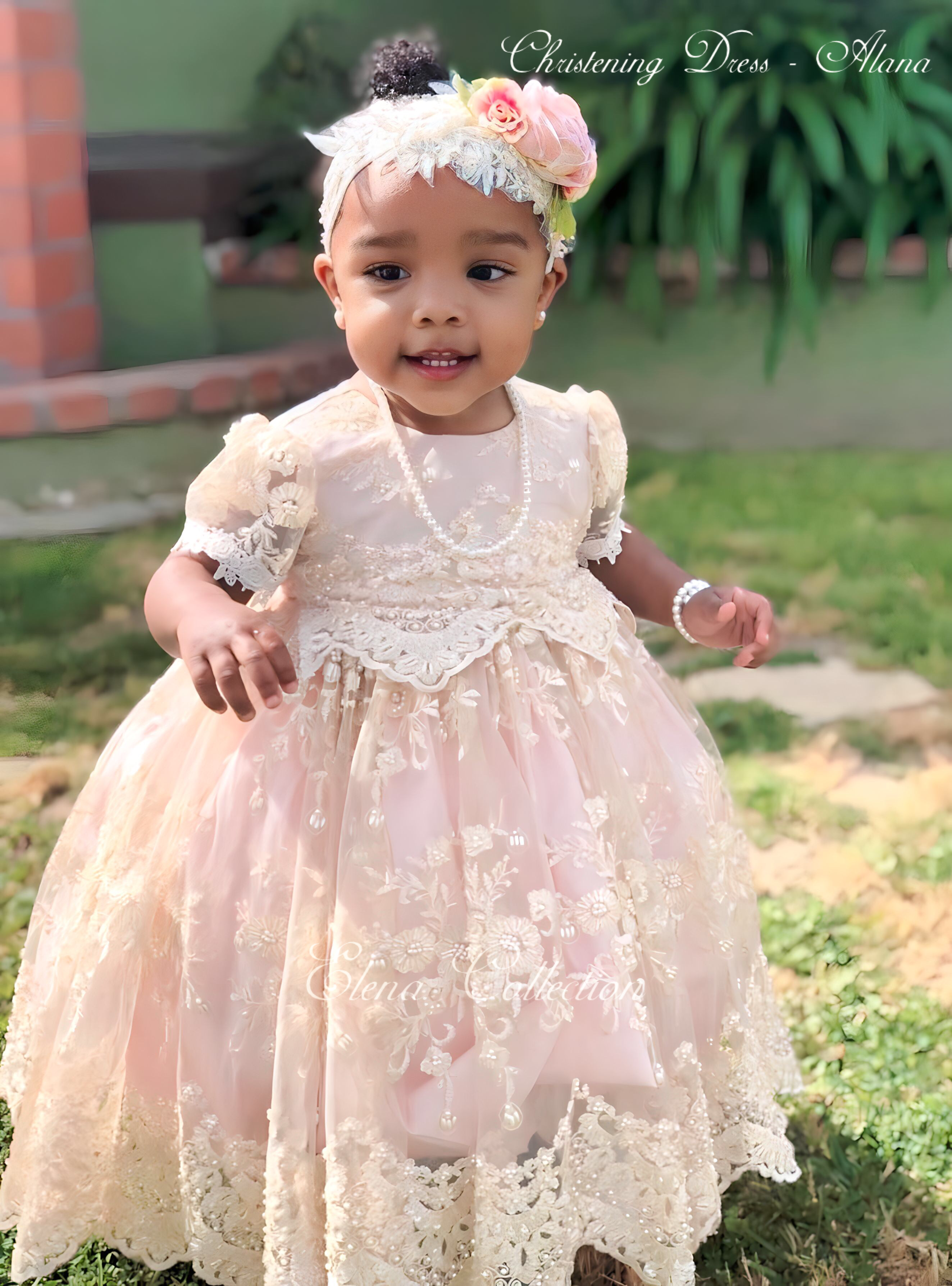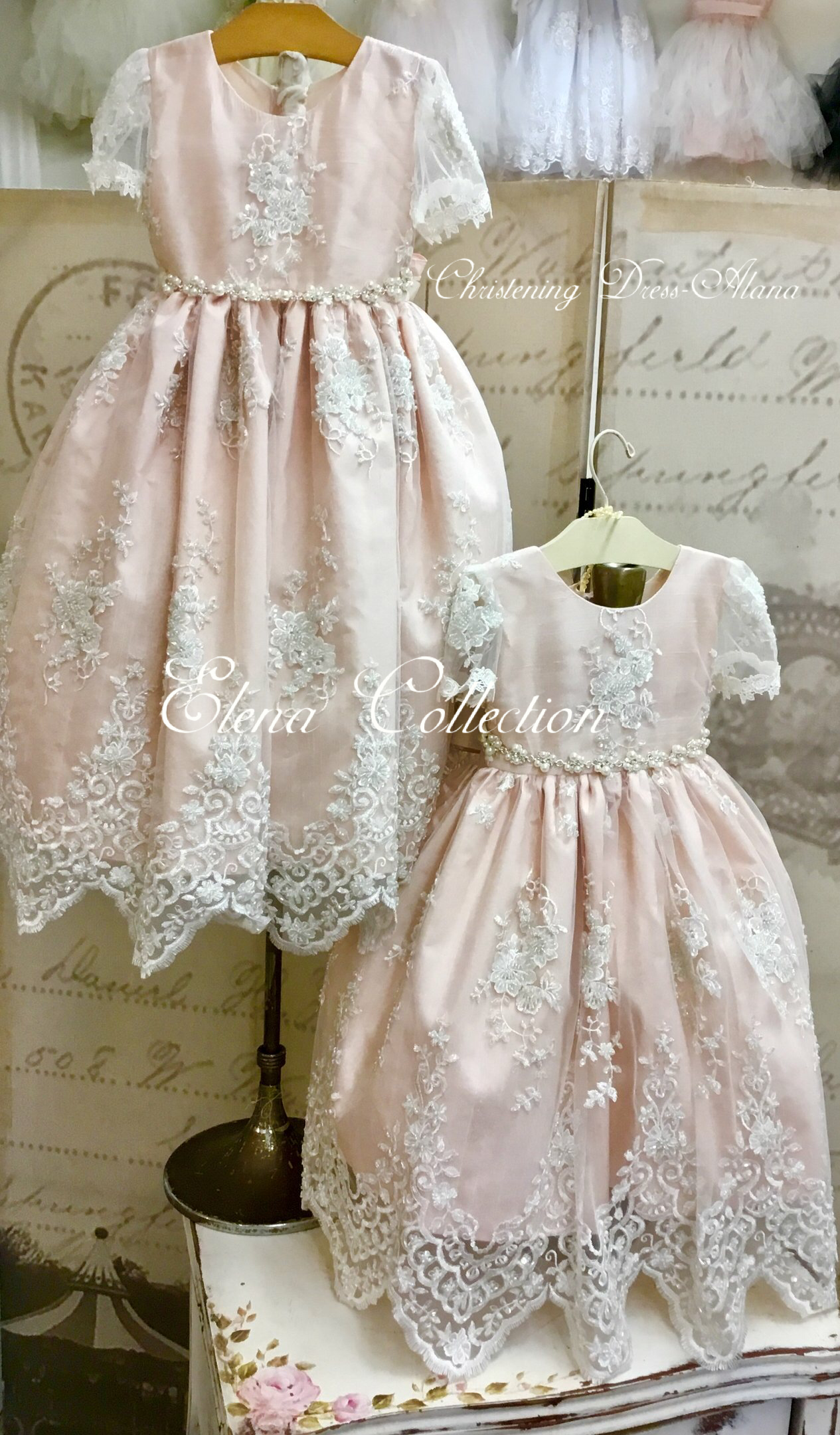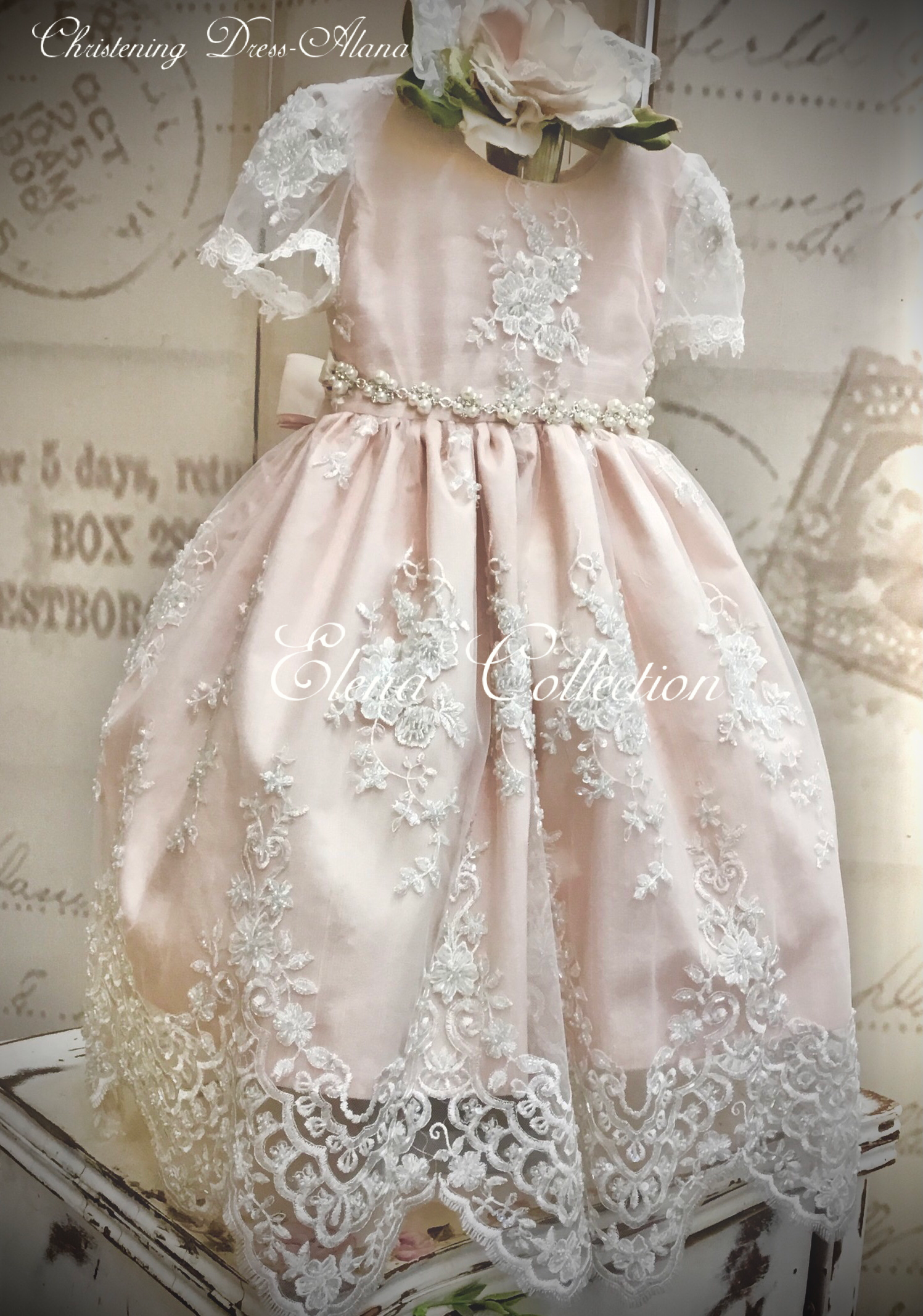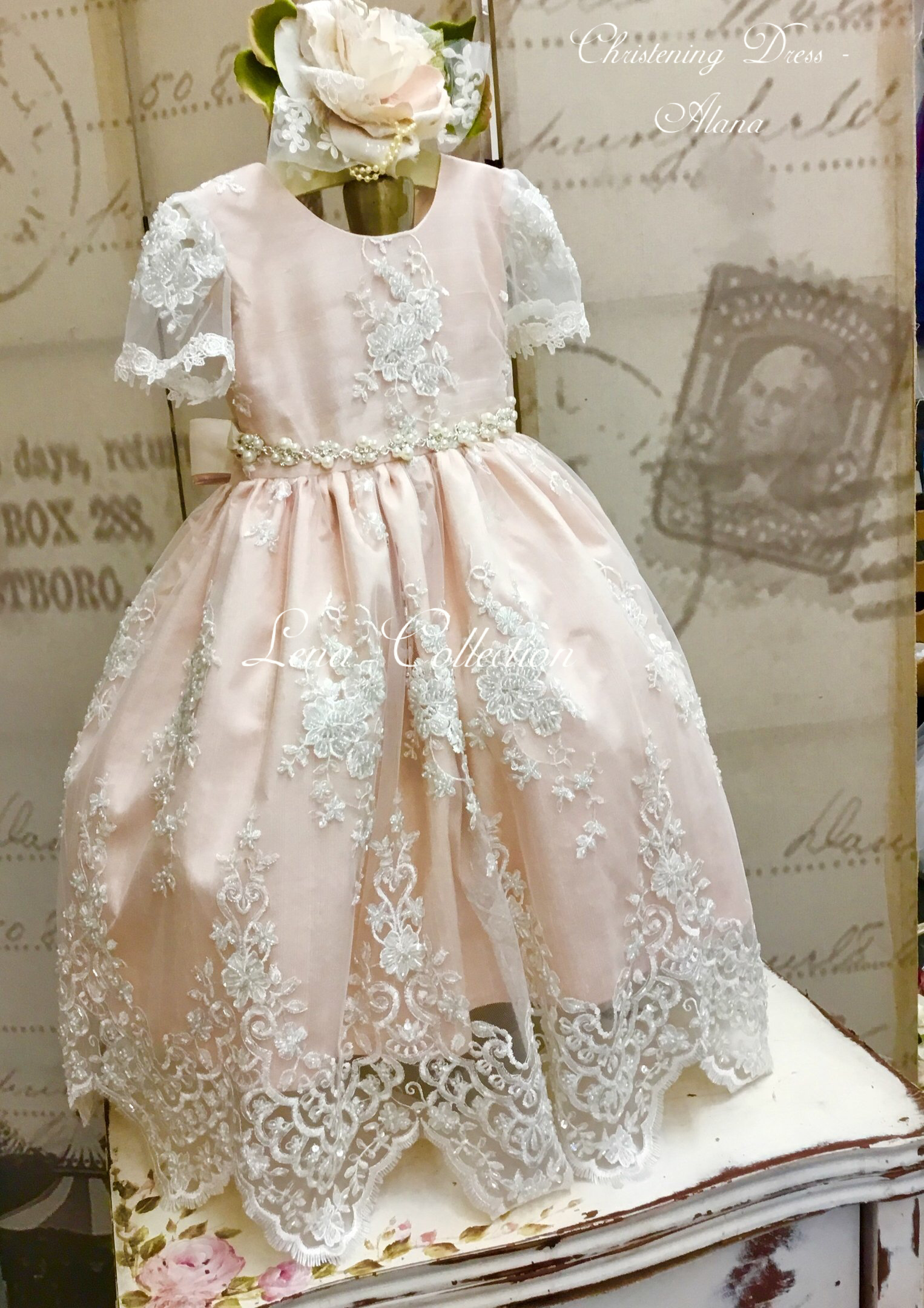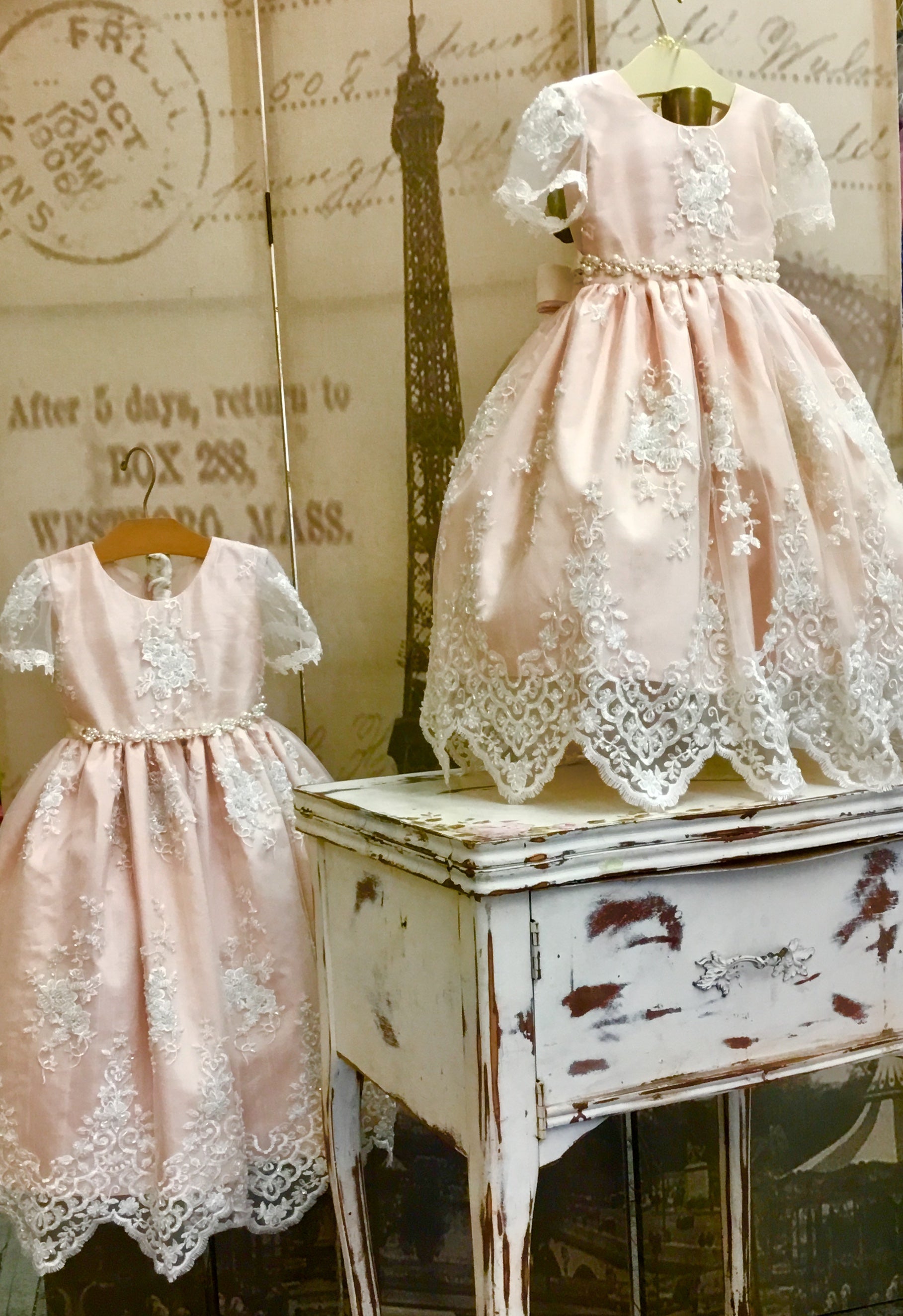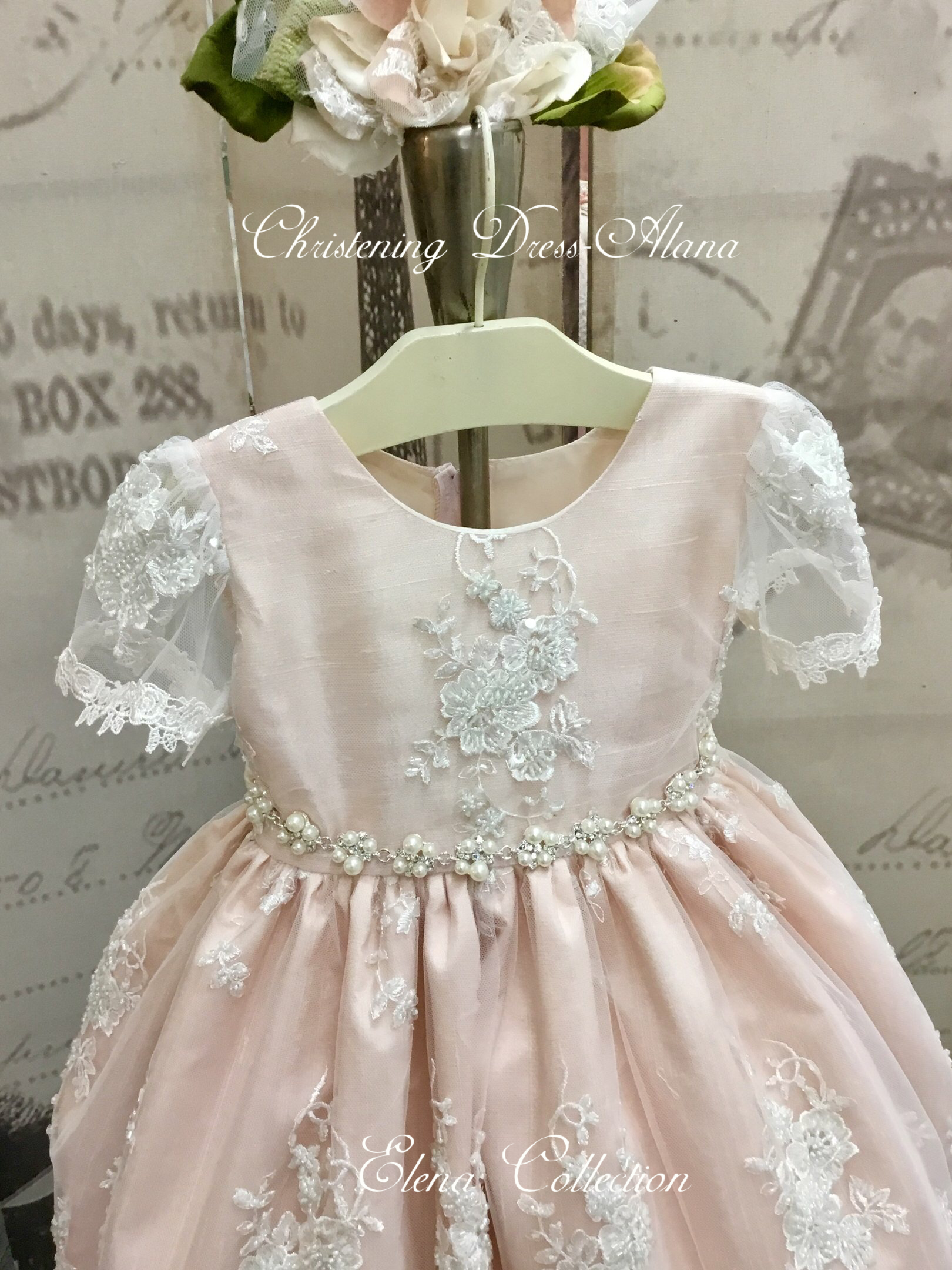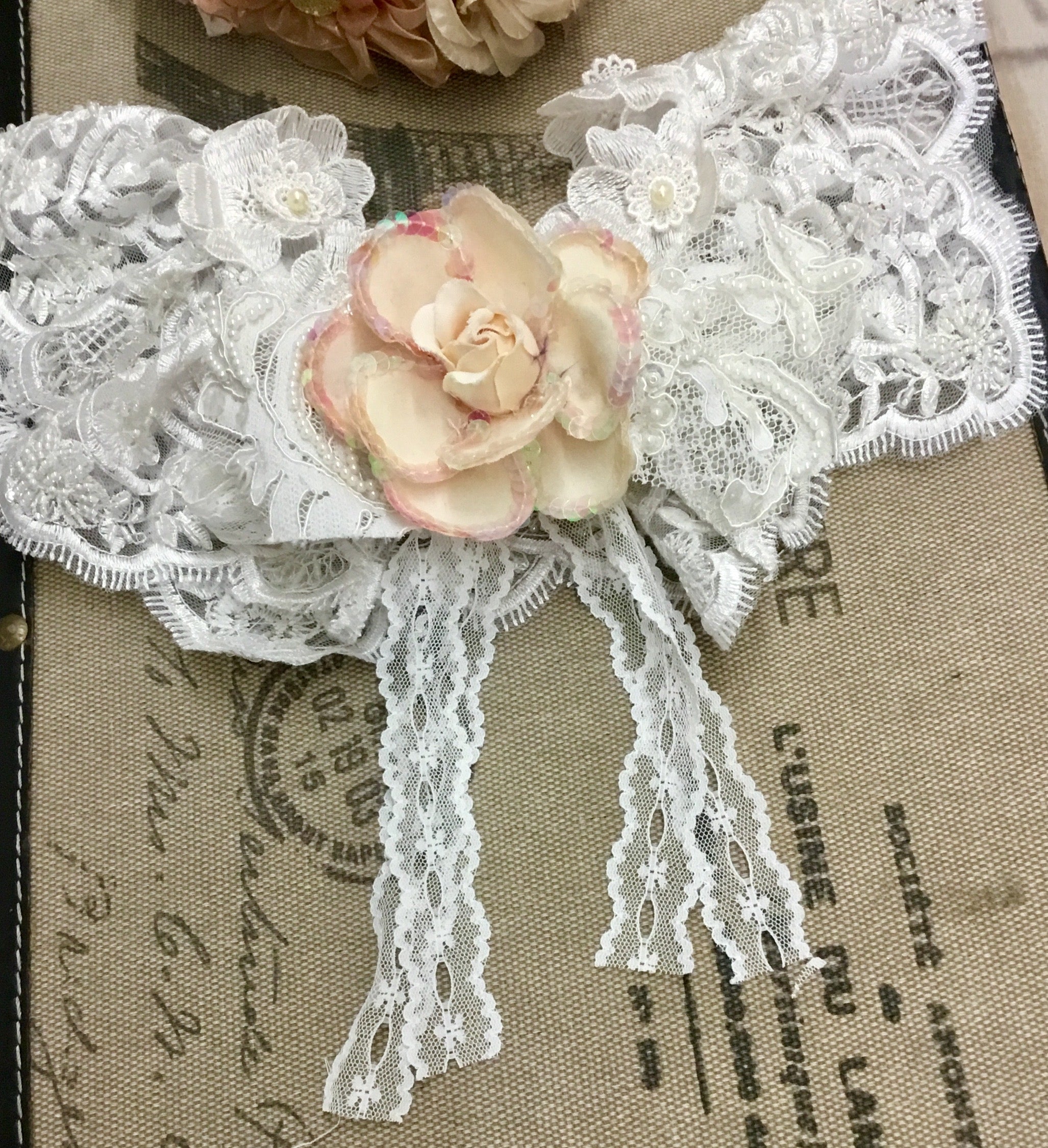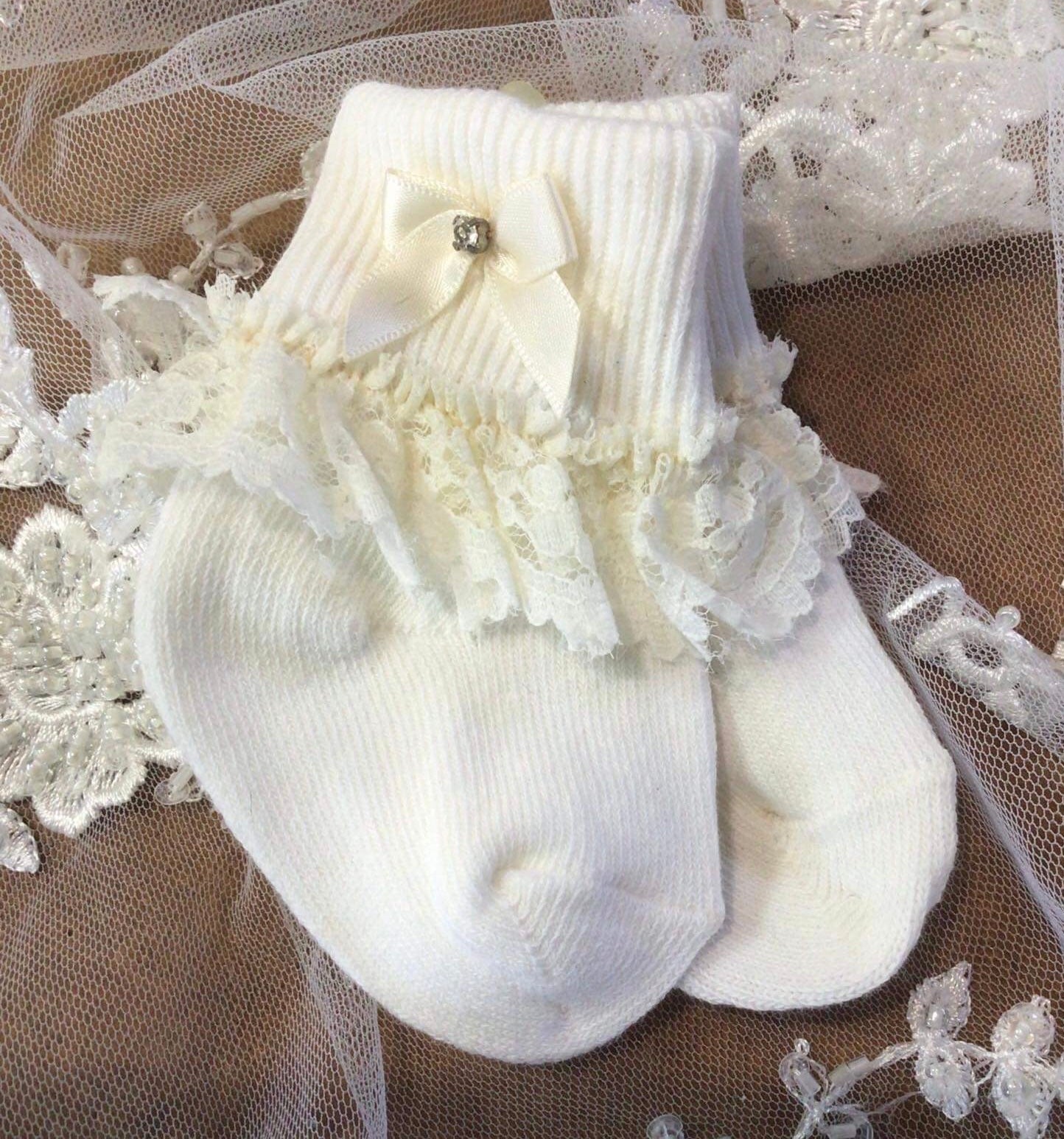 Regular price

Sale price

$ 285.00

Unit price

per
Christening Dress - Alana  Item Overview • Handmade item • Materials: Lace, Tulle, Piping, Fusing, Lin • Made to order...
Free Shipping
Free standard shipping on orders over $200
Christening Dress - Alana 
Item Overview
• Handmade item
• Materials: Lace, Tulle, Piping, Fusing, Lin
• Made to order
• Ships worldwide from California USA
 . Colors: Ivory, blush Underlay
Item Details
GOWN DESCRIPTION:
- Light Embroidery Beaded Lace with Blush underlay Baby Christening Gown, Baptism Outfit, heirloom quality christening dress made with hand beading on the lace overlay
- Christening Dress and Headband Set made to match
- Short sleeved Christening dress girl comes with sheer lace sleeves.
- Heirloom quality. Perfect for Baptism day or after christening.
- close back with zipper.
- This baptism dress for baby girl is 90 inches wide. Beautiful full skirt great for pictures.
- This girls christening dress comes with soft lining
- Please contact me if you need to receive this dress in less than 10 days.
- Listing Model Photos are Customer Photos.
- 100% handmade Baptism dress.
- All our Christening dresses are shipped through UPS Priority  / Priority Mail International
- 1-2 weeks from Order to delivery
- Our Christening dresses are true to size
- Our bonnet and accessories would be stitched to our standard size, Please contact me to have accessories custom made to your child's measurements.
Dry Clean ONLY
Size Chart We Follow (Dress Measurements):
Please do read the guidelines below to choose the right size. We would be unable to accept returns due to incorrect sizing. If you have any doubts, please contact us so we can help you find the best fit.
The weight and height of a child is not a good way to determine size. We recommend dress sizes based on the chest measurement of the child. The measurements listed below are the actual measurements of the gown, not of your child. If your child has a 18" chest, please add 2-2.5" movement allowance while selecting the dress size.. In this case, the child with the 18" chest would need our 3-6 months size.
To get the chest measurement of the child, measure her around the chest, under the arms (with arms up) without clothes on. Clothing that is a bit too big can always be altered- but nothing could be done about small clothing.
Newborn: Chest: 18"
0-3 months: Chest:20"
3-6 months: Chest:20.5"
6-9 months: Chest:21"
9-12 months: Chest:21.5"
12-18 months: Chest:22"
18-24 months: Chest:22.5"
Pair it with any of the following accessories to match.
Silk Bloomers: $55.00
Candle Set: $ 85.00 matching lace and silk as the gown. 
Blanket: $95.00
Lace Bib: $25.00
Lace Shoes: $45.00
Silk Shoes: $30.00
Cotton Socks: $8.00
Belt: $28.00
Headband: $30.00
All of our gowns at Elena Collection are personally designed, handmade, and made to order. We strive on quality control, craftsmanship and exclusivity. Our gowns can be passed down for generations to come and proudly made in the USA ❤️
Alana Blush or Ivory Christening Dress for toddlers and baby girls perfect for any special occasion. This couture baby dress can be made in White also for a baptism or flower girl. It is made of hand beaded lace on a mesh overlay skirt and sheer sleeves, fully lined with attached crinoline for fullness. Made in our studio USA 
Items purchased at ELENA COLLECTION USA are only eligible for Exchange or Store Credit with-in 7 days of Delivery. In the case of an Exchange; Items must be returned unworn, unwashed, undamaged, unused and with all original tags and pieces attached.

You have up to (7) Days from the date of Package Delivery to Exchange or Receive Credit for any items.

Custom Orders: Custom Orders are non refundable.

Shipping Charges: Shipping Charges on expedited orders are not refundable.

Damaged Items: Damaged items are eligible for a Return & Exchanges with-in (7) days of Delivery. If you receive an item that is damaged, please contact customer service immediately.

HOW TO SEND YOUR RETURN OR EXCHANGE

1) Indicate on your invoice whether you are exchanging or returning the item(s). 2) For exchanges: please indicate the desired model/size. We recommend you contact customer service to place your exchange on hold so it does not sell out while we await your package. Please call or send an e-mail with the order number, the item, and size you would like on hold.
(sales@elenacollectionusa.com)
3) Pack your item(s) and invoice into the return bag/cardboard box and affix the prepaid mailing label.
4) Mail your package using one of the following methods: a. Drop your package at a USPS location without waiting in line (the label is pre-paid and requires nothing else on your end).. b. Leave the package off at a location that has a daily USPS pick-up.
5) If you decide to send your return back without using the return label that we have provided, please address your return to the following address:
Elena Collection USA
4339 Heather Rd.
Long Beach, CA 90808
-

TURN AROUND

Orders typically ship 5-14 Days from the date of purchase. Orders may ship as early as next-day of purchase. Purchases placed Friday-Sunday will be processed Monday. (For Custom Inquiries contact us at (213) 748-5948)

-

Elena Collection Garments only delivers merchandise that is authentic, first-run, and individually hand made, sewn, & sutured. Products such as Silk Christening Gowns and Silk Tops are made with 100% Organic Silk.