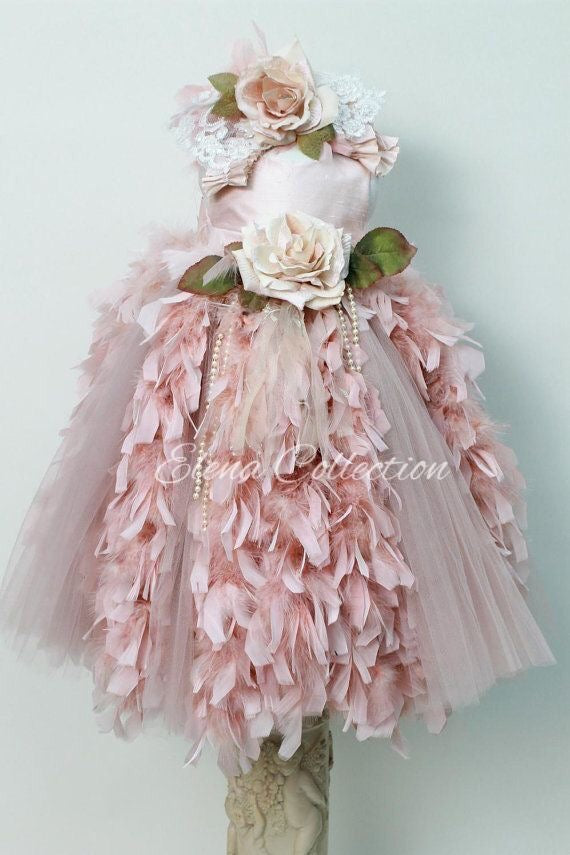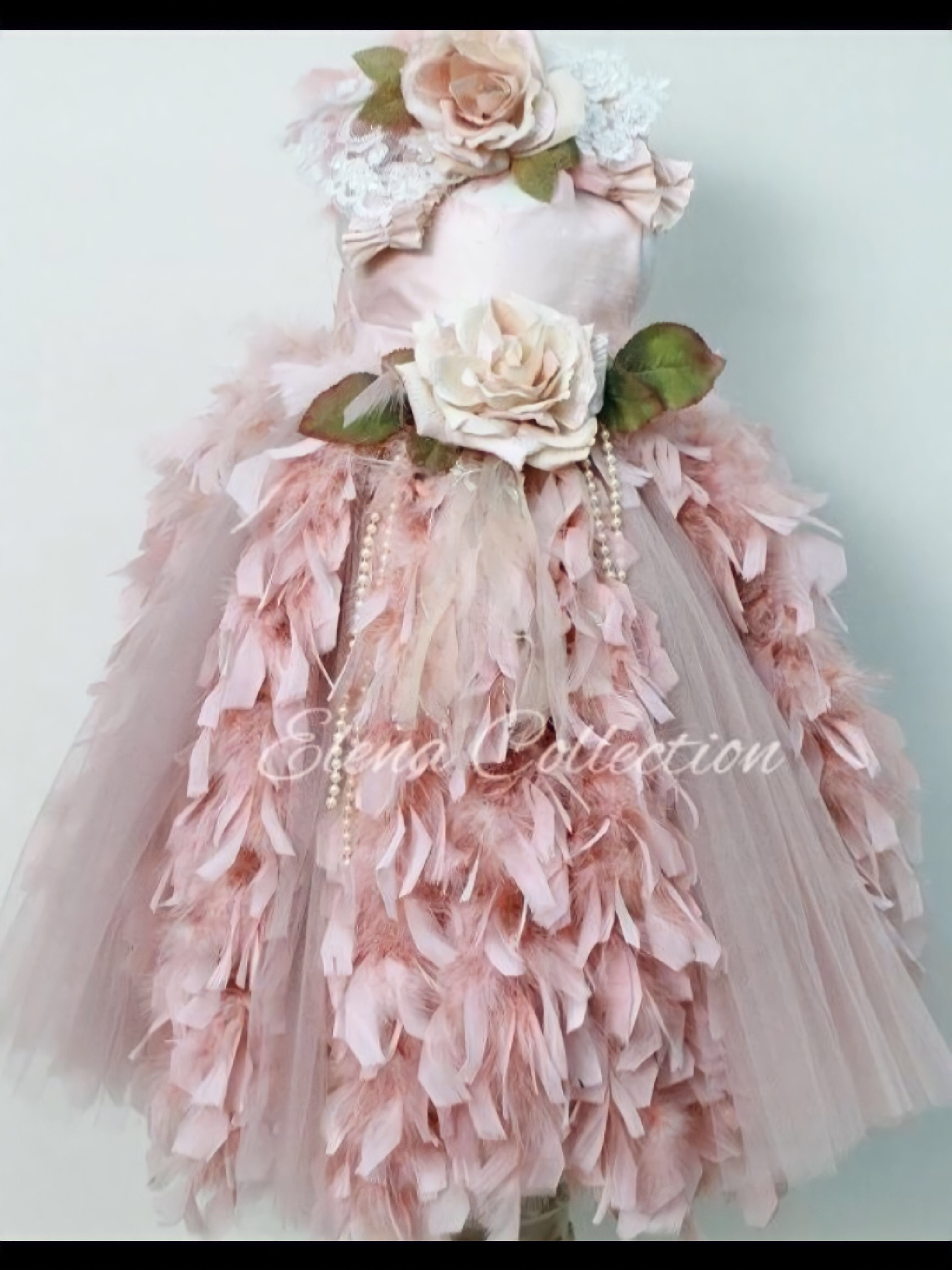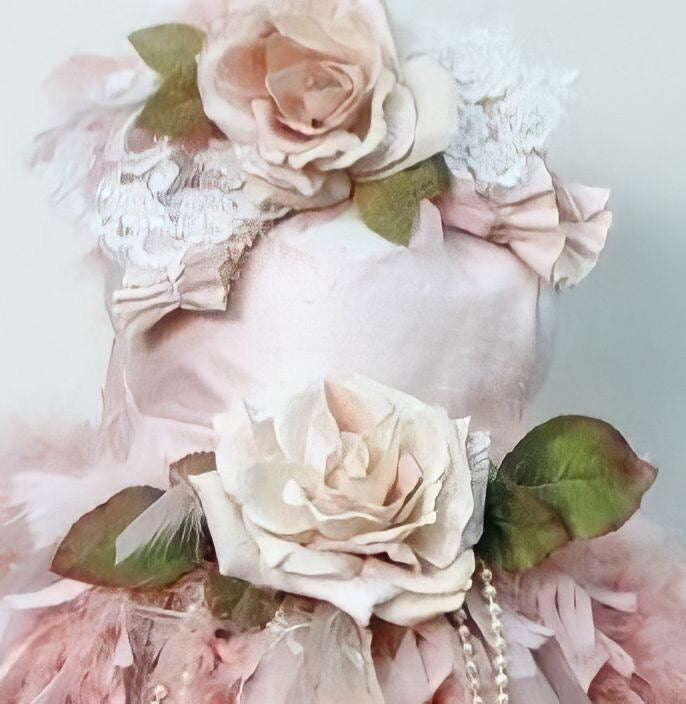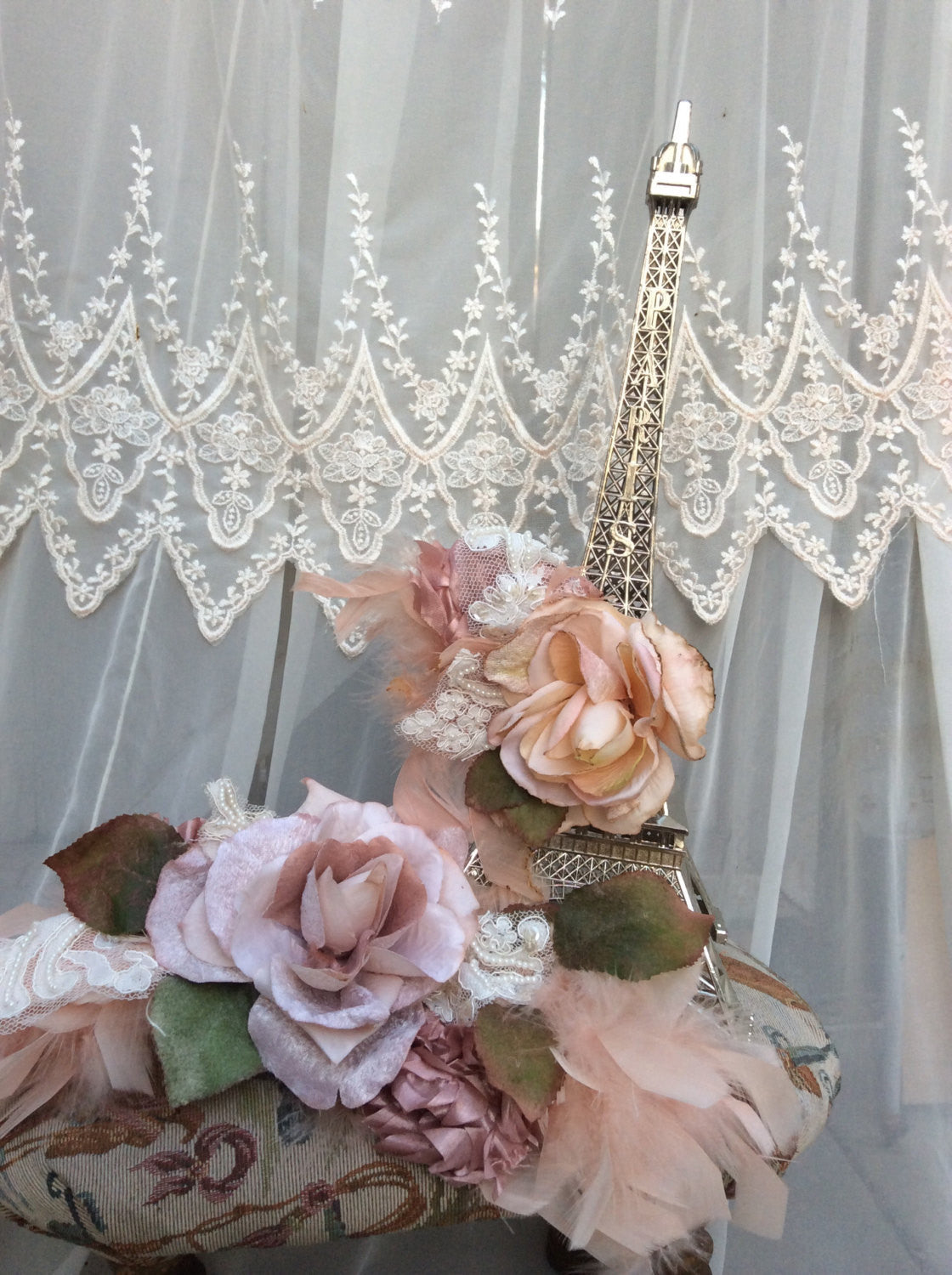 Regular price

Sale price

$ 175.00

Unit price

per
Beautiful flower girl dress made of feathers and silk. Item overview. . Handmade item . Made to order  . Ships...
Free Shipping
Free standard shipping on orders over $200
Beautiful flower girl dress made of feathers and silk.
Item overview.
. Handmade item
. Made to order
 . Ships from California USA 

Item Details 
.. Silk, fusing, lining, tulle, feathers, velvet flowers, 

•• WHEN YOU RECEIVE THE DRESS: 
* YOU WILL NEED TO TAKE IT OUT AND GIVE IT A VERY VERY GOOD SHAKING TO REMOVE ANY FEATHERS THAT CAME LOOSE  FROM BEING PACKED AND DURING TRAVEL
* YOU WILL ALSO NEED TO GIVE IT ANOTHER SHAKE BEFORE IT'S WORN TO ENSURE THE LOOSE FEATHERS ARE OUT
* IF YOU DO NOT RELEASE THE LOOSE FEATHERS BEFORE YOUR LITTLE ONE WEARS HER GORGEOUS DRESS, SOME OF THE LOOSE FEATHERS  WILL FALL OUT WHILE SHE WALKS (IF THAT HAPPENS, DON'T BE ALARMED, THE FEATHERS ARE NOT FALLING APART)

•• DRESSES ARE MADE ANKLE LENGTH

•• ACCESSORIES ARE NOT INCLUDED

•• THE BODICE is double layered and made with the best quality/durable fabric
* The back is a medium to low cut. Very elegant, tasteful and pleasing to the eye!

•• THE SKIRT IS CONSTRUCTED and MADE WITH GORGEOUS HIGH QUALITY FEATHERS AND TULLE

* I DO NOT USE FEATHERS THAT ARE LOW QUALITY OR INEXPENSIVE ONES PURCHASED IN STORES
* I HAVE THE FEATHERS CUSTOM MADE and DYED 
* I USE HEAVY DUTY STRENGTH BONDING MATERIAL  
**BEFORE I PACK EACH DRESS I DO A STRESS TEST ON THE FEATHERS TO ENSURE THE STRENGTH (the only way the feathers can be detached from the dresses is when a lot is strength is used to pull them off)

***I WOULD NEVER SEND OUT A DRESS THAT IS POORLY MADE & KNOWING IT WILL FALL APART

•• THE SASH IS NOT ATTACHED TO THE DRESS
The SILK I use is high quality and  luxurious to the eye and to the touch.  You can choose to wear it with the dress or without.  You can have the bow shown on the front or the backside of the dress.  If you don't want a bow you can tie it in a knot.Blush feather flower girl dress with a detachable flower brooch one of a kind.
Beautiful flower girls tulle silhouette and feather dress great for any special occasion, photoshoot, weddings, birthday and more.
Items purchased at ELENA COLLECTION USA are only eligible for Exchange or Store Credit with-in 7 days of Delivery. In the case of an Exchange; Items must be returned unworn, unwashed, undamaged, unused and with all original tags and pieces attached.

You have up to (7) Days from the date of Package Delivery to Exchange or Receive Credit for any items.

Custom Orders: Custom Orders are non refundable.

Shipping Charges: Shipping Charges on expedited orders are not refundable.

Damaged Items: Damaged items are eligible for a Return & Exchanges with-in (7) days of Delivery. If you receive an item that is damaged, please contact customer service immediately.

HOW TO SEND YOUR RETURN OR EXCHANGE

1) Indicate on your invoice whether you are exchanging or returning the item(s). 2) For exchanges: please indicate the desired model/size. We recommend you contact customer service to place your exchange on hold so it does not sell out while we await your package. Please call or send an e-mail with the order number, the item, and size you would like on hold.
(sales@elenacollectionusa.com)
3) Pack your item(s) and invoice into the return bag/cardboard box and affix the prepaid mailing label.
4) Mail your package using one of the following methods: a. Drop your package at a USPS location without waiting in line (the label is pre-paid and requires nothing else on your end).. b. Leave the package off at a location that has a daily USPS pick-up.
5) If you decide to send your return back without using the return label that we have provided, please address your return to the following address:
Elena Collection USA
4339 Heather Rd.
Long Beach, CA 90808
-

TURN AROUND

Orders typically ship 5-14 Days from the date of purchase. Orders may ship as early as next-day of purchase. Purchases placed Friday-Sunday will be processed Monday. (For Custom Inquiries contact us at (213) 748-5948)

-

Elena Collection Garments only delivers merchandise that is authentic, first-run, and individually hand made, sewn, & sutured. Products such as Silk Christening Gowns and Silk Tops are made with 100% Organic Silk.